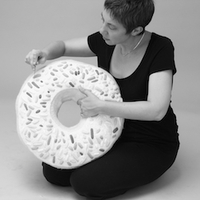 Jenne Giles is a fiber artist whose work explores the possibility of felting with wool across sculpture, painting, and wearable art. Her work involves concepts of gender, identity, consumerism, culture, and mortality. Similar to the outsider artists that she admires, her path in art has been rich with variety and hands-on experience.
Jenne was born in Seattle, Washington, in 1975. She graduated from the High School for the Performing & Visual Arts (Houston, Texas) in 1993 and she received her degree in Art & Art History from Rice University (Houston, TX) in 1997. Soon after graduation, Jenne moved to San Francisco where she participated in local art projects through costume, performance, and installation. After apprenticing for 5 years in architectural metalwork, Jenne started her own business,
Ink Operated
(2005), later
Harlequin Feltworks
(2007), a business specific to felt accessories. In 2010, she published
Felt Fashion: Couture Projects for Garments & Accessories
combining pattern-making, sewing & felt-making techniques. In 2013, Jenne was awarded the
Carol Duke Award of Excellence
by the Bellevue Arts Museum and was a deYoung Artist in Residence in 2015. She completed her first solo exhibition,
Americana
, at the Fresno Art Museum, where she displayed her sculptural feltwork from July 2018 - Jan 2019.
Jenne now lives near Joshua Tree, CA, with her husband and 2 young children.